Sorry this is a little late! Better late than never right!
- This is my main goal for the month, Get Melody to the Hawkes Bay Individuals competition. It is 5 hours away and we will be there from the 24th-26th. It will be a very big competition for Melody, a very big experience especially considering her age and experience. We aren't going to win, we are going for experience. Just to take it slow and let her figure it all out.
This was a success, I am very happy with how she went :) We do need to work on her reactions to my leg though. (see February goals) .
- Finish buying all of Melody's gear in Royal Blue. She looks adorable in the color.
- Done, and we modeled them in Hawkes Bay. She was so cute :)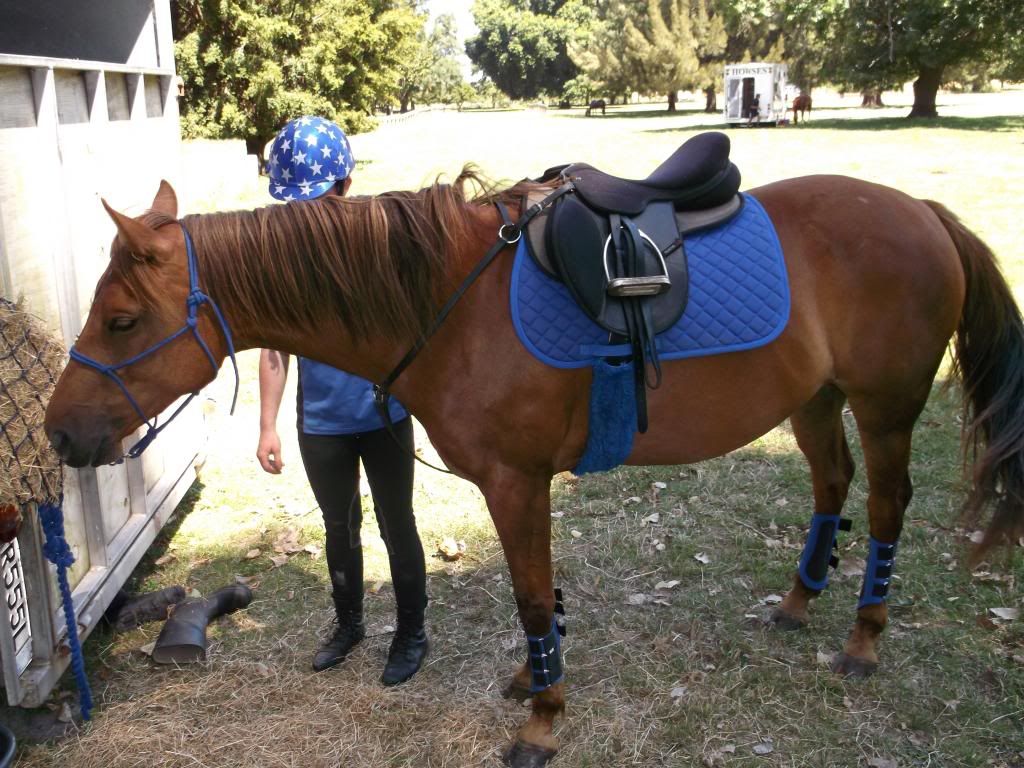 - Start taking Melody out on a few more farm hacks.
- I think I did about 3 farm hacks in January with Meldoy. Not as much as I wanted to get her out but I still did it
- Do some flat work training. We may a showing show coming up!!
We did a lot of flat work and we also did well at the show.
- Get Romeo working more consistently on the bit and collected at a walk/trot and canter.
I did lots of this with Romeo over January. I worked on using a very light hand, hardly touching his mouth at all.
- Do some fitness work
On our hacks we did 5 minute trot/canter sets with all the horses
- Start training more complicated jumping exercises
I did this with Melody , I wouldn't consider them complicated though. Just adding in a double and a few poles to get her thinking. I think all in all though she hasn't been over more than 20 jumps with a rider so she is still figuring out what to do with her legs.
- With Poppy during the summer pretty much all of our rides are hacking down to the beach, swimming in the river or farm rides.
- Lots of farm rides and fitness work, all really fun
- I want to start teaching her more tricks - work on bowing and shaking and nodding.
- I taught her a new trick, she now knows how to smile on command. It took me less than 10 minutes how to teach her. Ill try get videos of her tricks :)
February Goals.
- Lots of fitness work with Poppy and Melody. Do 5 -7 minutes canter sets, 3 in per hack.
I am competing them both at Horse Of The Year show this year!! Im so excited (I will do a post about this.) So lots of fitness work for them.
Start riding Melody and Poppy together (eg ponying)
At horse of the year we will be doing a pairs competition. Which means that they have to be fine running at each at a gallop of galloping right beside each other without freaking out or being domineering over the other.
Take Romeo and Melody to a ribbon day.
This post is so late that Ive already done this and posted about it but because its one of my February goals.
Get Melody at lot more reactive to my leg.
-
When she gets tired or just doesn't feel like working she likes to ignore my leg, and because her potential to be a top games pony is high and thats what she is being trained to do she needs to know that as soon as I put a little leg on it means GO.
On the 16th there is Pairs competition 6 hours away that we will be traveling to. My pair will be riding Poppy and I will be riding Melody.
The goal for this is to get both ponies going well competing together before horse of the year show.
Work on turns with Melody
Melody has a great fast turn on her but I need to remember to use my leg properly to get it out of her. Lots of leg is important on a games pony.